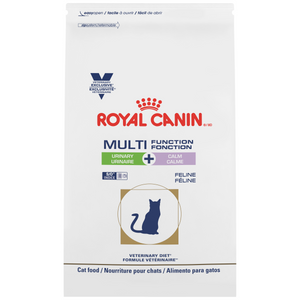 Rx REQUIRED! We will verify your prescription before finalizing your order. If a prescription is not on file, we will contact you for further information on obtaining a prescription.
Please allow an extra 5 days for pickup / delivery.
Feline Multifunction Urinary + Calm is specifically formulated to help support a healthy urinary tract while providing calming nutrients for cats facing stressful environmental situations. This diet features the benefits of RC's Urinary SO - helping to prevent struvite and calcium oxalate crystals and stones - as well as nutrients including tryptophan and alpha-casozepine to help cats experiencing stress.