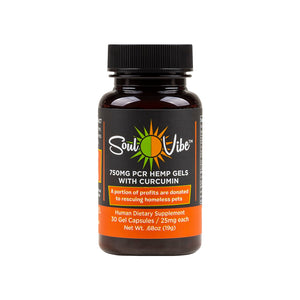 FOR PEOPLE, NOT PETS!
BROAD SPECTRUM NANO-SIZED MICRO-EMULSION GEL CAPS
MADE WITH USA ORGANICALLY FARMED HEMP
NON DETECTABLE THC
CRUELTY FREE (NEVER TESTED ON ANIMALS)
PHARMACEUTICAL GRADE
WATER SOLUBLE
NANO-SIZED MICRO-EMULSION PLATFORM DELIVERY SYSTEM
Suggested Use: Take 1-2 gel caps once to twice daily. May be adjusted up or down until desired affect is attained.
Curcumin is a natural anti-inflammatory compound high in antioxidants that supports optimal joint and brain health.
Active ingredients per gel cap:
PCR Hemp Actives………….25mg
Curcumin…………………………..10mg
Inactive ingredients:
Polysorbate emulsifiers, MCT Coconut Oil, Beta Caryophyllene, Sorbitol, Water.
Gelatin Shell: Bovine derived gelatin, water.