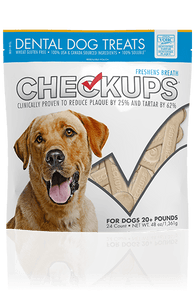 A HEALTHIER SMILE
Your dog will feel better with Checkups dental treats – and you will, too. In addition to regular dental checks, Checkups are an easy way to keep your dog's teeth and gums clean and healthy.
Checkups work in three ways. They help remove plaque and tartar, stimulate gums and freshen breath. Plus, they are highly digestible, contain omega-3 fatty acids and are wheat gluten free.
BENEFITS
VOHC SEAL OF ACCEPTANCE
Checkups has earned the prestigious VOHC (Veterinary Oral Health Council) seal after extensive testing to prove its safety and efficacy.
REDUCES PLAQUE BY 25% AND TARTAR BY 62%
Plaque forms quickly on teeth and hardens into tartar slowly with accumulation, leading to dental disease. In a clinical research study, Checkups dental treats were fed to dogs one time per day after their meal and proven to reduce plaque by 25% and tartar by 62%. Although not as effective as twice daily brushing, feeding your dog Checkups is a much easier way to improve dental health.
HELPS FRESHEN BREATH
The first sign of dental disease is bad breath. The pliable texture of Checkups allows the teeth to sink in, effectively scraping the surfaces to remove plaque. This prevents the build-up of tartar, keeping teeth clean and breath fresh.
STIMULATES GUMS
Healthy gums are an important part of dental health. Checkups are designed for teeth to sink down into the treat. This helps rub the surface of the tooth all the way to the gums applying gentle pressure to stimulate the gums.
CONTAINS OMEGA-3 FATTY ACIDS
Omega-3 fatty acids are important nutrients for controlling inflammation and supporting a healthy skin and coat. Having an additional source of omega-3 fatty acids in your dog's daily diet like Checkups is beneficial for overall health and well-being.
WHEAT GLUTEN FREE
Wheat gluten is a protein-rich ingredient made from wheat. Because some dogs are sensitive to wheat, there are no wheat-based ingredients in Checkups.
100% SOLUBLE AND HIGHLY DIGESTIBLE
Checkups were examined in a two-stage gastrointestinal digestibility study performed in a University of Illinois research lab highly regarded for its accurate models of canine digestion. The results found the recipe to be soluble and highly digestible, making it safe for your dog.
EASY TO DIVIDE
Checkups are easy to divide at the score line in the center of the bone. To soften Checkups for your pet or to aid in dividing, simply wrap in a moistened paper towel and microwave for 10 seconds.
USA AND CANADA SOURCED INGREDIENTS
All ingredients in Checkups come from North America.
FEEDING INSTRUCTIONS
For best results, feed Checkups as a dental treat every day. Using the Feeding Guidelines below, feed the appropriate amount of Checkups for your dog's weight 1-2 times daily as a dental treat. Checkups are not intended to be a complete and balanced food source and should not constitute more than 25% of your dog's diet. As with any treat, always offer water after feeding.
To soften Checkups for your pet or to aid in dividing, simply wrap in a moistened paper towel and microwave for 10 seconds.
Monitor your dog to ensure Checkups is adequately chewed because gulping any edible product can be harmful or even fatal.
We do not recommend Checkups for puppies less than 6 months of age or adult dogs weighing less than 20 pounds.
FEEDING GUIDELINES
| Weight (lbs.) | |
| --- | --- |
| 20-25 | 1/2 treat 1-2 times per day |
| 25+ | 1 treat 1-2 times per day |
GUARANTEED ANALYSIS
Crude Protein, not less than 10%
Crude Fat, not less than 3%
Crude Fiber, not more than 2%
Moisture, not more than 13%
Omega-3 Fatty Acids **, not less than 0.4%
**Not recognized as an essential nutrient by the AAFCO Dog Food Nutrient Profiles.
CALORIE CONTENT
Calculated Metabolizable Energy
Per kg 3,161 kcal
Per Serving 89.5 kcal (20-25 lb dogs)
179 kcal (25 lb+ dogs)
INGREDIENTS
Potato flour, rice flour, glycerine, water, natural flavor, gelatin, canola oil, titanium dioxide (color), monoglycerides of edible fatty acids, flaxseed oil, citric acid, magnesium stearate, tetrasodium pyrophosphate
This product contains no plastics. Product appearance and color may vary slightly.