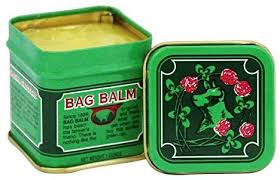 This medication is used to prevent minor skin infections caused by small cuts, scrapes, or burns. Bag Balm works by stopping the growth of certain bacteria. It belongs to a class of drugs known as antibiotics. It will not work for virus or fungus infections. Unnecessary use or overuse of any antibiotic can lead to its decreased effectiveness.
Recommended Uses
Massage thoroughly and allow ointment to remain for full softening effect. For chapped conditions and superficial abrasions. After washing hands, apply thoroughly and allow coating to remain on surface. This protective ointment helps to keep superficial tissue moist and soft. Bag Balm contains lanolin and stays on to provide moisturizing and softening.
In case of deep puncture wounds seek medical help.
Discontinue use if rash or irritation occurs. Keep this, and all medications, away from children. For pets, apply Bag Balm liberally to the affected area. For use on cows, thoroughly wash treated teats and udder with separate towels before each milking. To avoid contamination after each milking, bathe the udder with plenty of hot water, strip milk out and dry skin. Apply Bag Balm freely and massage gently with this proven ointment twice daily. This product contains no alcohol.
Active Ingredient
8-hydroxyquinoline sulfate 0.3%